Aerotech flying high for fire protection and ag support
04 February 2019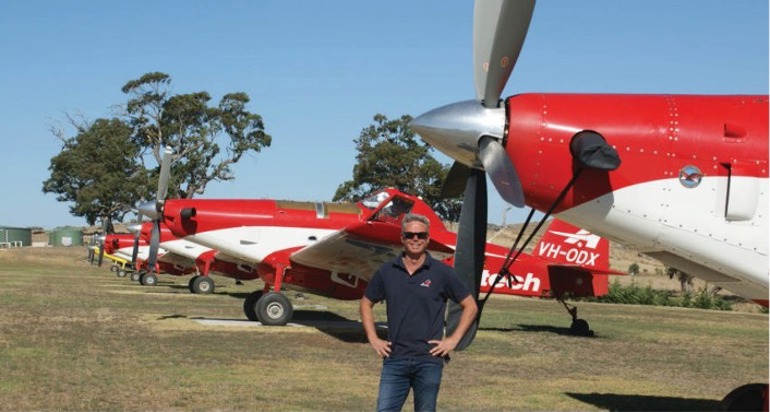 Confronting because it might mean a bushfire is burn- ing nearby, but also comforting because the flames will soon be doused by over 3000 litres of liquid from aerial firefighting bombers.
The Aerotech Group is behind the aircraft most likely to be seen in these scenarios. During peak periods 10 fixed wing aircraft and three helicopters are on standby at Brukunga in the heart of the Adelaide Hills, as well as two fixed wing aircraft and two helicopters in Hoyleton in the Mid North, two fixed wing bombers in Mt Gambier and two fixed wing bombers in Port Lincoln.
Around 20-25 people are usually stationed at the Brukunga base and within three minutes of a callout the aircraft can be in the air, travelling at 300km/hour to provide a rapid response to the emergency and gather information for the CFS.
This vital service, covering the entire state, has been provided by the McCabe family for more than 30 years.
Now operated by Sam McCabe, The Aerotech Group was established in 1968 in Tintinara in the Murray Mallee as a one aircraft, agriculture aerial application service that sprayed crops for local farmers.
Sam's parents Pam and Bob took over the ailing business when the owners walked out, and over time the business has grown via acquisitions and diver- sification to become one of South Australia's great success stories and the largest company of its type in Australia.
As well as being the managing director, Sam is also the chief pilot. While he jokes that flying is "the only thing I really feel I am good at", his business acumen is evident in the rapid expansion of Aerotech.
The past six years has been a period of intense growth for The Aerotech Group which has four op- erating entities including Aerotech Agriculture, Aero- tech 1st Response, which is responsible for aerial suppression of bushfires and aerial response to oil spills around Australia's coastline, Aerotech Helicop- ters, and Aerotech Maintenance. During this period the business has doubled its fleet to 28 aircraft, 50 employees and has seen growth in revenue of around 15% per annum.
"The re-structure of the state's firefighting fleet, as well as additional government funding for aerial fire- fighting has played a big role in Aerotech's growth," Sam says.
"We have established two new airbases to support our aerial firefighting efforts, and we are in the pro- cess of re-building our facility at Parafield Airport.
"The rebuild will allow us to relocate our head office from Kent Town to the new facility which will have capacity for us to conduct maintenance on four times the number of aircraft at any one time."
Sam began flying lessons in Year 12, and earned his commercial pilot's license at the age of 19. Although he doesn't fly as much as he would like these days, he says he still puts himself on the 'roster' as much as he can.
"I love flying," Sam says. "I have over 10,000 hours in the air and reckon I've done around 40,000 landings/ takeoffs. The agriculture side of things is what I enjoy the most. Flying four-feet off the ground, under pow- erlines at 300km/hour is a massive adrenaline rush."
The Aerotech Group has recently conducted testing which shows aerial agricultural application provides better results for farmers than ground application for crops.
"We are part of SA's rural community, so we want to make sure we are doing the right thing in servicing our farmers," Sam says. "Other than our head office, all of our airbases are located in regional areas, which means that the people we employ and their lives and families are part of regional areas. Not only that but, over the past 50 years of business, we have formed strong relationships and friendships with the farmers we look after."
However, Sam says that aerial firefighting and offer- ing protection for people and property, is the most rewarding part of his job.
"You never know what a fire season might bring," Sam says. "Everyone always has a lot to say about it – whether it's a wet winter with lots of 'fuel' on the
ground, or if it's been dry and people say the country will light up easily.
"Either way, when you as the pilot are able to see first-hand that you have saved a house from being burnt, or farming equipment, lives and livelihoods, that's pretty satisfying."
This story was first published by Brand South Australia for the Regional Showcase.